"How do I motivate my sales team without spending a lot of money?"
Sales Managers, Business Owners, you do not need to pay extreme wages to have a motivated sales team, it may even be counterproductive.
A far better answer is to understand the psychology which underlies motivation.
In 'How to Motivate Salespeople without spending a lot of money' you'll find clearly explained what you have to do to build a top performing sales force without resorting to costly incentives.
You don't need me to tell you that having a team of energetic, capable and motivated salespeople is going to be good for your business. An effective sales force is a huge competitive advantage.
You may make great products or provide fine professional services but without enough customers, your company won't last long. Keen and enthusiastic sales people make a dramatic difference, I'm going to show you how to manage your sales force to achieve that.
Money is assumed to be the most effective motivator - but it's not the best way to incentive to produce a really strong sales force. Appealing to and satisfying each individual's internal drives is a stronger motivator. This manual shows you precisely how to create the conditions which catalyse positive motivation and fire up your sales teams performance.
Don't put up with poor sales performance, get 'How to Motivate Salespeople without spending a lot of money' right now and start turning things around today.
If you enjoyed this article, take a look at my book.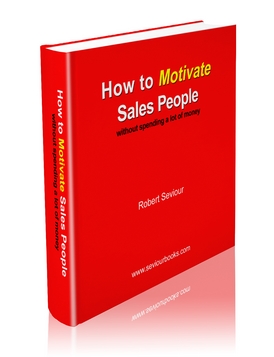 You will enjoy my book (59 A4 / US letter size pages), written in an entertaining style, easy to understand and crammed with practical ideas to increase sales immediately.
Fast track / key actions overview.

Better alternatives to paying a lot of money.

Motivation explained.

This is what you have to do.

Incentives which work.

How to recruit the best salesperson for your product.

Reversing burnout.

Dealing with 'difficult' salespeople.

Inspirational quotations.

Topics for productive sales meetings.
How to Motivate Sales People details the motivational strategy I have refined through 30+ years as a top salesman, sales manager and sales trainer.
Don't put this off, get the book right now I guarantee that you will like it.
'How to Motivate Salespeople - without spending a lot of money'

If you don't agree that you have learned many effective ideas for running a successful sales team I'll give you your money back immediately and without question.
How to Motivate Sales People comes in Adobe Acrobat (.pdf) format. When your credit card is authorized you will receive an order confirmation via email and instant access to download your manual from the web.
A charge of $37.00 USD United States Dollars (equal to approx 20.65 UK Pounds) will appear on your credit card statement. Sales tax is charged in addition in some countries. There are no other costs.
Once you press the order link below you will be able to download immediately.
And if another challenge facing your business is recruiting an effective salesperson, see also:
How to Hire a Really Good Technical Sales Engineer